This cross stitch edging was on the same sheet as the Little Juan Mexican boy posted earlier. This would be nice for skirts or aprons and of course, peasant blouses.
Elephants Cross Stitch Embroidery Pattern for you next fun project.
Love the cat sitting on the fence! Have fun with this colonial woman cross stitch embroidery pattern.
It must be tea time. And then comes nap time. This teacup and saucer cross stitch embroidery pattern was probably meant for tea towels.
Sweet little birdies.  So many applications for these Birds Cross Stitch Embroidery Patterns!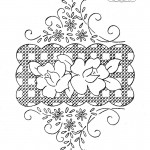 Nice selection of cross stitch baskets embroidery patterns. Do we ever get tired of stitching flowers, especially daisies? I think not.  Love the roses!
Posted in

Cross Stitch, Edgings & Borders, Embroidery Transfers, Flowers and Nature, Food
| Tagged

basket, border, corner, cross stitch, daisies, edging, embroidery, flowers, fruit, hankerchief, roses, x-stitch
|
2 Responses
This could probably be enlarged at any Kinkos and made up into a welcome mat. As is, a guest towel? Sampler? At any rate this welcome embroidery transfer pattern is a nice way to say "hello."
This first set is from Alice Brooks. The cross stitch is probably one of the easiest stitches to work up. Love the hand on the hip! Comatose? Too much Tequila? She looks like she might wake him up with some plate throwing. This guy is really dead weight under the rug! He lives! In contrast […]
Posted in

Embroidery Transfers, People
| Tagged

cross stitch, DOW, embroidery, free patterns, man, mexican, pottery, sombrero, transfers, woman, x-stitch
|
7 Responses
There are tons of kitten patterns but this is one of my top 10 faves. It's like she's saying "gimme me a hug!" Love these expressions! Cross stitch isn't my favorite but hey, they're kittens!!!