Here's a few toy soldiers for hand embroidery.
I love vintage toys!  This spinning top embroidery transfer pattern is another wonderful candidate for applique or redwork for Christmas.
Posted in

Christmas, Embroidery Transfers, Objects
| Tagged

baby, Christmas, embroidery, pattern, redwork, spinning, top, toy, vintage
|
1 Response
I'm a sucker for baby designs. Wouldn't this jack in the box toy embroidery pattern be adorable on a onesie?
Here's another vintage pattern from the 1950s of an adorable teddy bear. I've seen these done two-tone in pastel pink and antique white and they are too cute. The embroidery is usually done in black.
This guy sure is cute but that big nose looks more like a carrot! Ok, he is named "Nosey" so it's intentional. The directions don't state the finished size so you'll just have to make it up to find out! The pattern scale is 1″ per square. You can get the free pattern and instructions […]
This is Susan's pet duck, Louella. According to the poem, she is a dizzy duck from being so busy. The cool thing about making toys is you know exactly what is in them and there are no worries about lead or little parts falling off. These are old school and safe! To download the free […]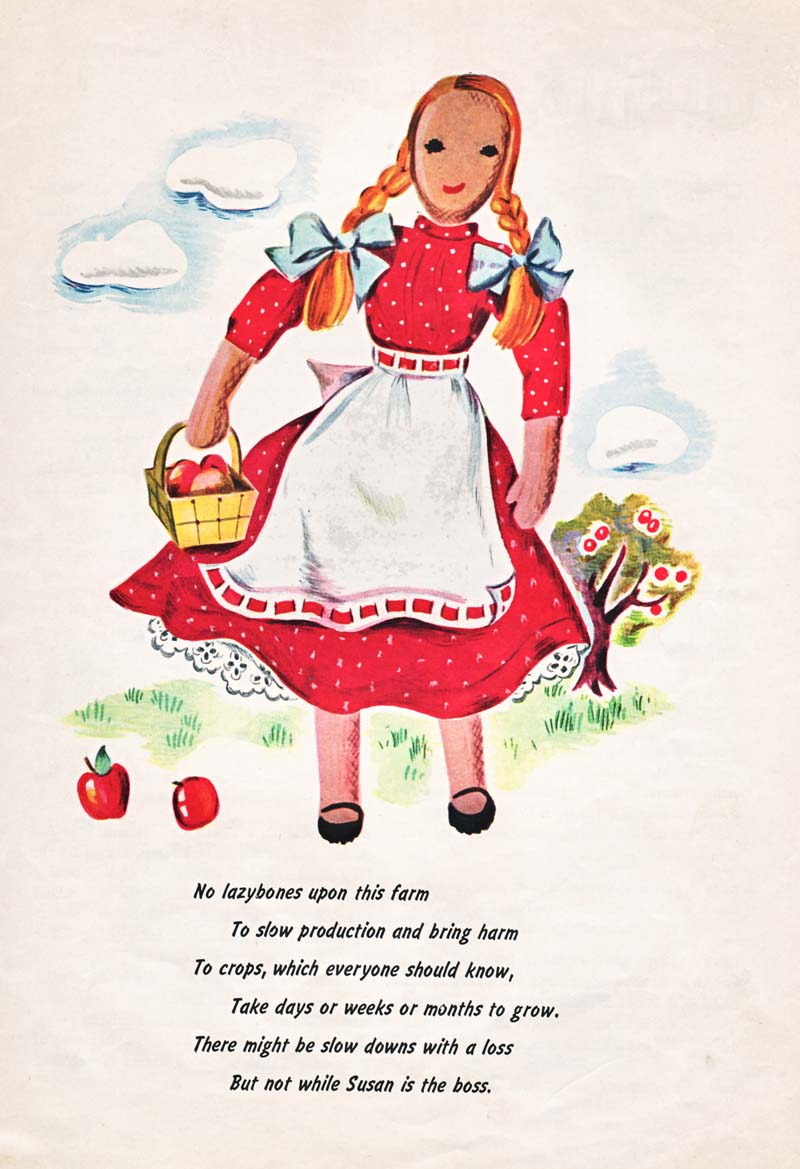 No farm is complete without people to run it! Here we have Susan who is probably the milkmaid as well as the hunter-gatherer. This vintage pattern is from 1943 but as you know, the stitches are still the same. To download Susan as a PDF file click here. This is Susan's friend, Hiram, the hired […]
I was fortunate to grow up in rural places where open fields and chicken coops were my playground. I've been a city girl for many years but I still think these toys would be great for any kid, city or not. Why not crochet up the entire barnyard? When these instructions were written in the […]
If you have made Blackie then you might want to crochet up Gardenia, his mate. This pattern is also from the Victory Barnyard booklet from 1943. Gardenia is a free pattern available in PDF format by clicking here.
Here's another pattern from the Victory Barnyard booklet for an adorable sheep toy. This free pattern is available for immediate download in a PDF file by clicking here.