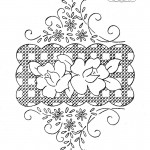 Nice selection of cross stitch baskets embroidery patterns. Do we ever get tired of stitching flowers, especially daisies? I think not.  Love the roses!
Posted in

Cross Stitch, Edgings & Borders, Embroidery Transfers, Flowers and Nature, Food
| Tagged

basket, border, corner, cross stitch, daisies, edging, embroidery, flowers, fruit, hankerchief, roses, x-stitch
|
2 Responses
Various Flowers Embroidery Patterns- many to choose from!
Posted in

Edgings & Borders, Embroidery Transfers, Flowers and Nature
| Tagged

chrysanthemum, corner, daffodil, daisy, dogwood, embroidery, flowers, hankerchief, hanky, mum, transfer, waterlily
|
8 Responses
This is a really old transfer…..like 1800s old. Originally there were french knots in the lower outer edge but I thought it might be too busy but feel free to add them back in. The butterfly was designed for a monogrammed hanky but of course, any text would work. This embroidery transfer is also a […]