Sweet! These girl and boy angel embroidery patterns would be cute on pillowcases or stitched into a quilt. A gentle reminder of the days before cartoon licensing when plain fabric was embellished with an artful design by a loving grandma or aunt.
Posted in

Angels & Cupids, Baby, Embroidery Transfers, People
| Tagged

angel, boy, embroidery, girl, halo, pattern, pillowcases, transfer, wings
|
6 Responses
Such an adorable boy! I love the cactus too with their happy faces.
These would be really easy for a young child to stitch up maybe with a little help from Grandma.
The original pattern is wider than 8-1/2″ so I left the good night transfers in their original orientation. This is probably meant for a pillowcase or a border on a sheet.
This is a rather detailed transfer so the best use would be on a large background like a quilt block or center panel of baby blanket. I believe Kinko's will print it larger than 8 1/2 by 11 if you email the file. 11 x 17 would be a good size. Of course, the larger […]
These were originally designed for potholders but they would also make cute quilt blocks. They would also be cute on a apron pocket! Click on the image to enlarge.
This would be darling on a pair of pajamas. This transfer was a single on a sheet of unrelated patterns which is too bad because a set would have been adorable.
Chase that partner. Kiss him on the sly. Love that partner. Some one who's shy. Find you a partner. Make yourself his wife. Count your blessings the rest of your life.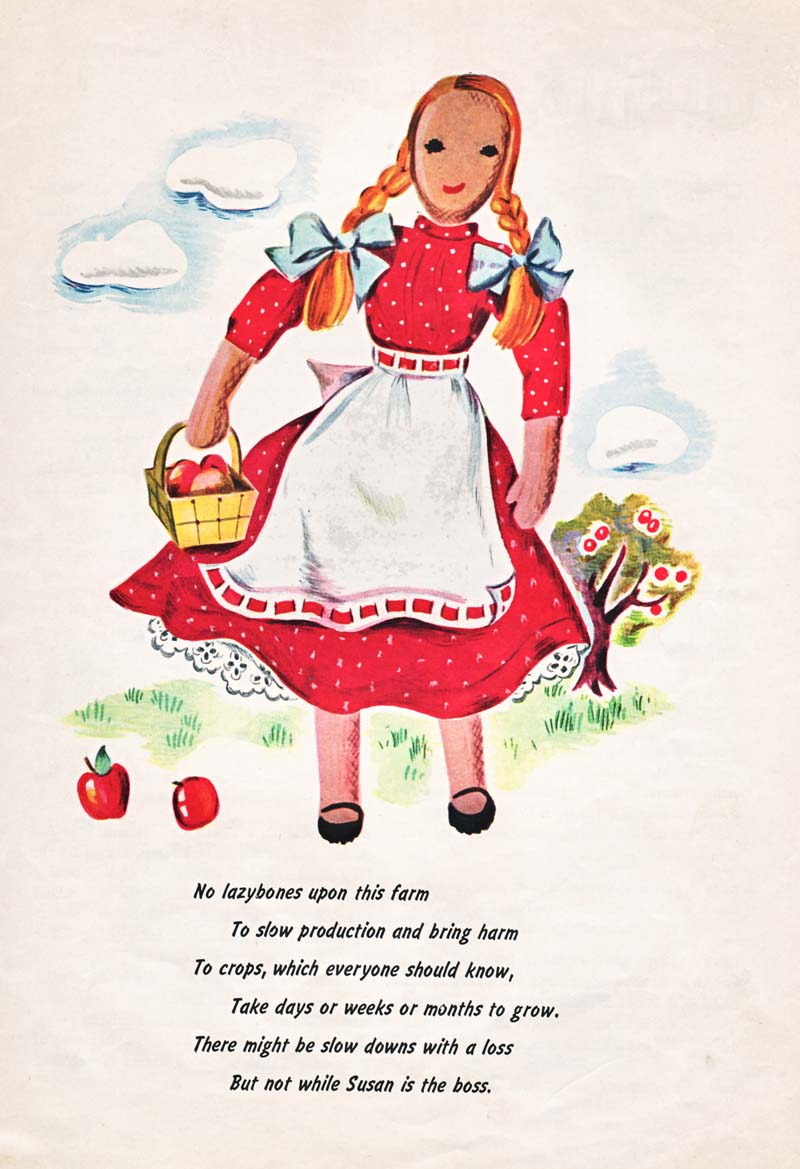 No farm is complete without people to run it! Here we have Susan who is probably the milkmaid as well as the hunter-gatherer. This vintage pattern is from 1943 but as you know, the stitches are still the same. To download Susan as a PDF file click here. This is Susan's friend, Hiram, the hired […]