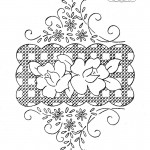 Nice selection of cross stitch baskets embroidery patterns. Do we ever get tired of stitching flowers, especially daisies? I think not.  Love the roses!
Posted in

Cross Stitch, Edgings & Borders, Embroidery Transfers, Flowers and Nature, Food
| Tagged

basket, border, corner, cross stitch, daisies, edging, embroidery, flowers, fruit, hankerchief, roses, x-stitch
|
2 Responses
These are pretty sweet by themselves but originally intended as a base for a three letter monogram. This Cherries Jubilee Embroidery Transfer Pattern would work up nicely on linen napkins or towels.
Many of the embroidery patterns can also be used in painting. So many possibilities! You could even use this Bunch of Grapes Embroidery Transfer Pattern on wood.
I've had these random patterns sitting around gathering dust and since it's Spring, it's time to do some cleaning. Moon + pie = moonpie. Yum! Various food embroidery patterns…and did I mention pie??
Usually the baskets are filled with flowers but this time around we've got fruit. The weave on the baskets are really beautiful! Strawberries! Yum! Grapes don't last long at our house. Cherries don't have to be in a bowl. A basket works just fine! When we pick blackberries not many of them make it into […]
The first part of the Vitamin Ball (orchestra) can be found here. Some of the single characters originally had partners but the former owner had cut them out. They were literally cut out like they were ex husbands being cut out of a picture. They're still cool even if they don't have dance partners. Miss […]
This is the first of 2 posts of Walker's Vitamin Ball hot iron transfers. There were originally 24 in the set but some are missing. MIA here is the bandleader. First the musicians….. A squash playing an accordian made of peas. Clever! This is supposed to be a beet but it reminds me of either […]
Click on the image for the enlarged size.
Yes, onions are stinky but these actually look nice. These stylized grapes are a little different. If I owned a winery I'd have these embroidered on all my towels. This looks like something from the 1970s but still no copyright notice. The turtle looks like he might have been partaking of the shrooms!