This cross stitch edging was on the same sheet as the Little Juan Mexican boy posted earlier. This would be nice for skirts or aprons and of course, peasant blouses.
Corner patterns have so many uses. These wonderful fleur de lis embroidery transfer patterns will work beautifully on cloth napkins!
This came from a turn of the century ladies magazine.
Got monograms? They would fit nicely in this sweet bow frame.
This sweet baby motif could dress up some ordinary items like onesies, bibs or hats. Don't forget that embroidery is really good at covering up stains!!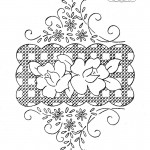 Nice selection of cross stitch baskets embroidery patterns. Do we ever get tired of stitching flowers, especially daisies? I think not.  Love the roses!
Posted in

Cross Stitch, Edgings & Borders, Embroidery Transfers, Flowers and Nature, Food
| Tagged

basket, border, corner, cross stitch, daisies, edging, embroidery, flowers, fruit, hankerchief, roses, x-stitch
|
2 Responses
These were designed for the edges of sheets and pillowcases. If you have some boring pillow slips in your linen closet dress them up with our His and Hers Lily of The Valley Embroidery pattern.
Various Flowers Embroidery Patterns- many to choose from!
Posted in

Edgings & Borders, Embroidery Transfers, Flowers and Nature
| Tagged

chrysanthemum, corner, daffodil, daisy, dogwood, embroidery, flowers, hankerchief, hanky, mum, transfer, waterlily
|
8 Responses
Pure vintage, dahling. I'm not sure why the frame is only three sided. Maybe it was originally for a vanity scarf. This basket of roses has so much detail…not for the faint of heart! Be sure and click on the image for the full size pattern.
Posted in

Edgings & Borders, Embroidery Transfers, Flowers and Nature, Hearts
| Tagged

basket, bouquet, cross stitch, daisies, darling, free patterns, heart, roses, transfers, wreath
|
21 Responses